My daughter was excited about the Oscars on Sunday night and frankly, I wasn't really sure why.  She's still too young to know much about the stars, film editing, directing, all the different aspects of production or the nomination categories.  Could she be watching to see the dresses??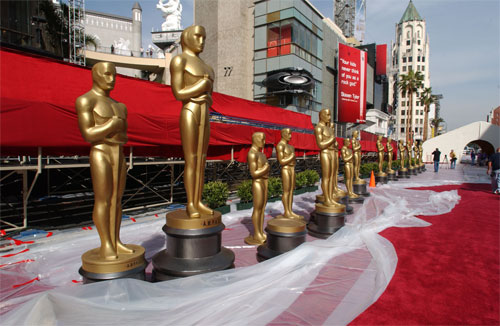 It made me think of possible motivations of a 12 year old and, putting on my TheNewHappyMe cap on, I think I figured it out.  The Glamour! As a teen, she may be attracted to the rich and famous for the look they portray, their beauty, their seemingly perfect lives and the money to buy everything their heart desires. The perfect illustration of success! Or is it?
Although everyone agrees that success by definition means the completion of an endeavour with favorable results,  not everyone holds the same measuring tape.  There is no standard to define degrees of success and this gives the word a very subjective and personal trait.
For most, fame and fortune constitutes success. For others, money alone is the prime indicator. Happiness is my personal gauge of success and I make it a point to enjoy all the little glories of achievement at each milestone on my journey. Obviously, my definition of success is very different then that of others.
Through the I Love ME process, I have learned that my true success comes from things that make me happy and proud to be me. For example, the money itself won't make me happy, but the knowledge that I worked hard to get it, that I used my smarts, that I built relationships and that I made it through challenges to make the money (no matter what amount) will.  I don't need to receive an Oscar and be featured in all media to be happy either (I'm not even in the industry!), but being called on stage to receive flowers from a group of students I helped on their talent show is incredibly rewarding and heartwarming. These are my indicators of success.
Movie stars, directors, musicians and other film industry partners who work hard on the amazing productions we see featured for nomination, also have their own success indicators. Their journey has been a long and arduous one and the fruit of their labour will be different than mine. Not better, just different. In my great accomplishments, following a difficult path, I may be as happy and feel as successful as an Oscar nominee! 
Now let's try to explain that to a 12 year old…!

Related posts: